'Interestingly', when we were chums back in the day, we were big
DOCTOR WHO
fans. Now that ain't so crazy (you should be saying) but in
1993/4
that was not a popular thing to say. I never told girls in case they wouldn't ride me, for example. Please note I said 'in case', arf arf. But now everyone loves the show, so it's okay to be a geek about it. And boy, we can be geeks! Oddly, in those days
TAKE THAT
were the top band in the pop charts, what a change we have...
(examines Top 40)
... erm, moving on. Even odder was that we both, together, as human young males who liked girls, went to an
EAST 17
gig. No, really. We had much fun and visited
The Union
as Nick was keen to see how it changed, and boy was he saddened. It's tough to explain to anyone who hadn't been in the old Union the difference between them but by christ it's huge. And not in a good way. We had fun though, which was the main thing and I get the feeling it won't be another 13 years until we see each other again.
(twice in one week, what a student!)
helping my mate
RICHARD MILLER
out with the
OPEN MIC
night. Played some stuff, I'd never done before which is always fun although one girl got reeeeeeal upset that we didn't know the words to
PULP'S
"
COMMON PEOPLE
", and so she is the recipient of this week's
CUM DRENCHED WHORE OF THE WEEK AWARD
- it was
gonna
go to
BRITNEY
due to her head shaving and general oddness but she just misses out. Elsewhere, TV is pretty excellent on a Wednesday with
DRAGON'S DEN
,
PARTY ANIMALS
(which is getting better and better)
and, of course,
NEVER MIND THE BUZZCOCKS.
Didn't see
IDOL
this week but
HARRY HILL'S TV BURP
was inspired with him going back to the 70's. Sadly he didn't review any 70's DOCTOR WHO which would have been fun. On DVD I watched
AN INCONVENIENT TRUTH
which was great but pretty grim
(though they do show a bit from my beloved

FUTURAMA

in it)
.
AL GORE
makes an excellent case and is positive about the future - his final message is that we have the power to change, we just need the will. Will we get it before it's too late? You decide.... Seriously though, if you want to borrow get in touch - everyone should know how to save the world. We can all do it, baby. I am already
recycling
jokes...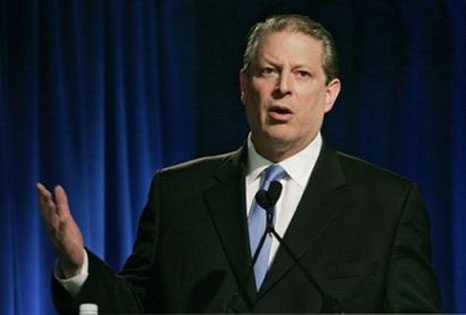 You can call him Al.



Music-wise
, here's a list of current stuff I like, man:
The Long Blondes:
Giddy Stratospheres
The Magic Numbers:
This Is A Song
The Decemberists:
Valencia
The Revelations:
If I Called You On The Telephone
Howling Bells:
Low Happening
Badly Drawn Boy:
A Journey From A to B
Take That:
Shine
Ghosts:
Stay the Night
Tokyo Police Club:
Cheer It On
Cold War Kids:
Hang Me Up To Dry
The Knife:
Marble House
Maximo Park:
Our Velocity
Where do baby cows eat?
The
calf
eteria.
Schnarf
Til the next time
C